| | |
| --- | --- |
| Posted by Geoff on July 11, 2016 at 9:55 AM | |
Greetings. We have been getting a lot of questions on how to "hook up" a 4 wire dryer or range power cord. Let's start with the basics. It doesn't matter what brand or model of dryer or range you have or are planning to purchase. Both 3 wire and 4 wire power cords will fit any - it depends on what type of receptacle you are going to plug the cord in to. Since 1996 new homes and certain degrees of remodeling are required under Article 550.16(A)(2) of the National Electrical Code (NEC) 2008, to use the 4 wire service. What this means is, the 4 wire cord separates the neutral and ground circuits to separate leads. The "hook up" or installation is basically the same. Each type of cord will have 2 - 110 volt hot leads and 1 - neutral lead. The 4 wire cord will have a separate ground lead.
The 3 wire cord, usually grey in color and flat will have 2 - 110 volt leads on the "out side" of the cord and the neutral lead in the center. The four wire cord, usually black in color and round, will have 2 - 110 volt leads (red & black), 1 - neutral lead (white) and 1 - ground lead (green). On the appliance terminal block, if there is a grounding strap from the center terminal post or screw it must be removed, (see your appliance owners manual - 4 wire cord has separate neutral and ground leads). As in the 3 wire cord, the 2 - 110 volt leads (red & black) will attach to the two outer terminals, the neutral lead (white) will attach to the center terminal and the ground lead (green) will connect to the provided screw near the appliance terminal block or cabinet grounding screw.
Please see the illustrations below for reference and the different types of receptacles. And as always, when working with any electrical appliance, SAFETY FIRST - DISCONNECT POWER before making any repair.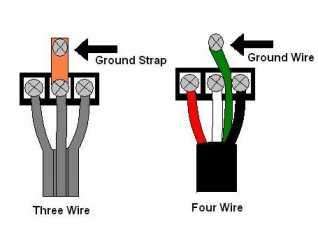 3 and 4 wire range receptacles.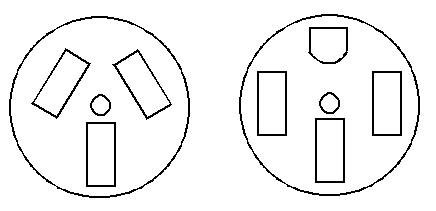 3 and 4 wire dryer receptacles.